Seventeen years ago this October, Caleb and I got married. One of the home appliances we bought with a wedding gift card was a bread maker. We had dreams of always having fresh bread in our home. We thought, we will "never need to buy store-bought bread again!" as the box said.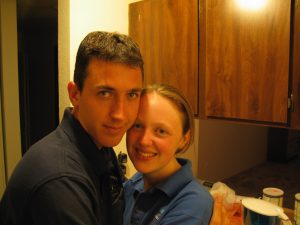 Our first attempt yielded something that was just… okay. We tried again a few times. Some of them were alright. Most of them ended up partially baked. Personally, I'm not a fan of a raw and yeasty flavor to my bread.
I'm sure not all bread makers are created equal. For some reason the heat was not able to read the interior of the loaf of bread creating a half baked scenario.
The words in Hosea 7:8 grab my attention.
"Ephraim is a cake not turned." – Hosea 7:8
In those days, bread was baked on a fire – most likely a flat loaf. The fire was only reaching half of the loaf. Ephraim is half baked. What's Ephraim's problem? Not allowing the fire to reach the whole. The fire must be allowed to come into contact with the whole life.
The Holy Spirit whispered to me, "God wants to reach all of you – to leave nothing in your life untouched."
God desires my whole life and whole self to come in contact with the fire of the Holy Spirit – the purifying, passionate, purpose-filled fire of the Almighty.
My response today? Yes, Lord. May it be so in my life.